Your AC is one of your home's most important systems. It keeps your living space cool and inviting during the warm weather. A quality air conditioning system also impacts indoor air quality and the overall sense of comfort and serenity in your home.
Help your air conditioner stay in excellent condition with professional residential AC maintenance services from Brandywine Valley. Our expert team has been working on Chester County HVAC systems for over 30 years – no matter what type of AC you have in your home, we know how to keep it in great shape. Call 610-692-3900 or contact us online to set up an appointment.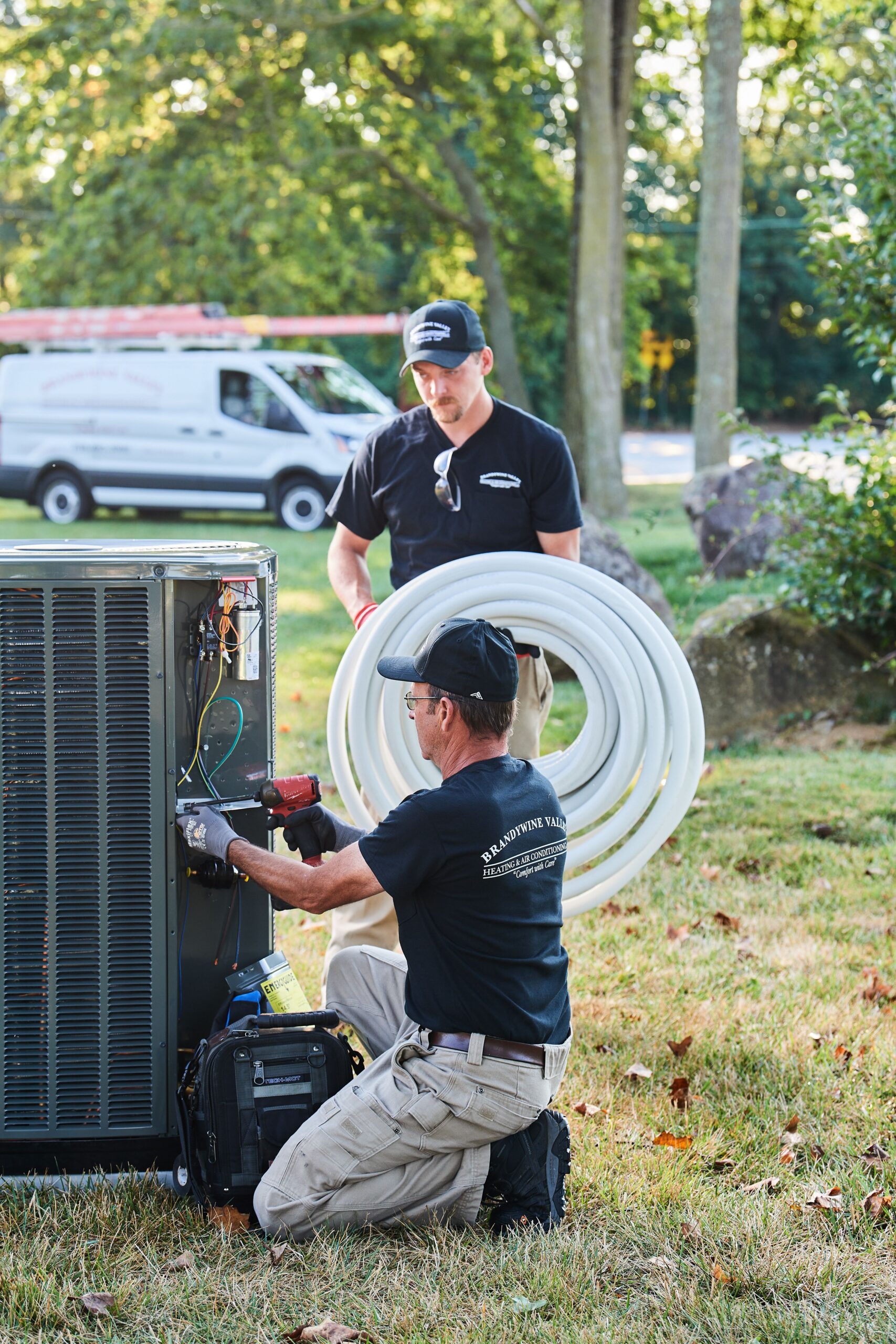 Why it is Important to Care for Your AC System
As dust and debris build up and components start to wear, you may notice your unit is not functioning like it once did. Over time, your AC can run less efficiently, which can lead to poor performance and higher energy bills. As with any piece of machinery, parts wear over time and ultimately fail. A timely maintenance visit can help spot this wear before it becomes a failure.
Do not assume this is the best your AC can do, even if it's an older system. The reality is HVAC technology has evolved rapidly over the past couple of decades. The leading brands manufacture systems that are designed to last for years without a reduction in performance.
The key to maintaining the same high level of quality you experienced the day you installed your AC is to have it serviced periodically. A specialist can check your system and service it to ensure it works flawlessly for the upcoming summer season.
Get More Out of Your System
With regular maintenance, your system should last longer, giving you more years out of your investment. You are also less likely to run into issues such as a noisy unit or poor performance.
Save Money on Your AC
Servicing can potentially help you save on repair costs and energy costs. During maintenance, we can take care of small problems before they become expensive repairs. A regularly maintained AC unit runs more efficiently than one that has not received annual check-ups.
Residential Air Conditioning Maintenance Service You Can Count On
Do not worry about your AC this summer. Reach out today to set up a service appointment for your AC. We service both indoor and outdoor units, ductless systems, and ducted AC systems.
Home Air Conditioner Maintenance FAQs
Learn more about servicing your air conditioner. Here are answers to common questions about AC maintenance.
The better you care for your unit, the better it will serve your cooling and comfort needs. To keep your air conditioner in good condition, be sure to replace your HVAC air filters according to the manufacturer's recommendations. Also, keep your unit clear of dust and debris and clean the condenser coils in the spring before you start using it in the summer.
With professional care, you gain peace of mind that your AC is working optimally. Our experts will use special tools to deep clean the system. We also check for loose connections, clear the condensate drain, lubricate motors and bearings and recharge refrigerant. If there are any small issues developing, we will take care of them during your service appointment, which can prevent larger problems down the line.
Ideally, a professional checks your system once a year. The best time for air conditioning maintenance is in the spring. This is because your system may have been sitting unused for months – it is a good idea to make sure all components are ready for use, debris isn't clogging your system and there's nothing that needs replacement before you start using it regularly.
Contact us today to set up an appointment. We will make sure your AC runs beautifully all summer long.