There is nothing more frustrating than not having adequate hot water in your home. Warm water is essential for day-to-day life. If you are having trouble with your home water heater, give us a call. Our factory-trained specialists can take a look, fix any existing problems, and have your water heater functioning in no time.
We also install new water heaters. When our licensed installation specialists replace your water heater, you can rest assured your appliance is expertly installed and will last for as long as it should. Call 610-692-3900 or contact us online so we can get your new water heater up and running right away.
Signs You Need Water Heater Repair
As soon as you notice signs of a problem with your water heater, give us a call. If yours is like most households, you use warm water in your home multiple times a day – which puts a lot of stress on your system. If your heating element is damaged, there's mineral deposit buildup, or a crack, it is likely the water heater will completely give out before long.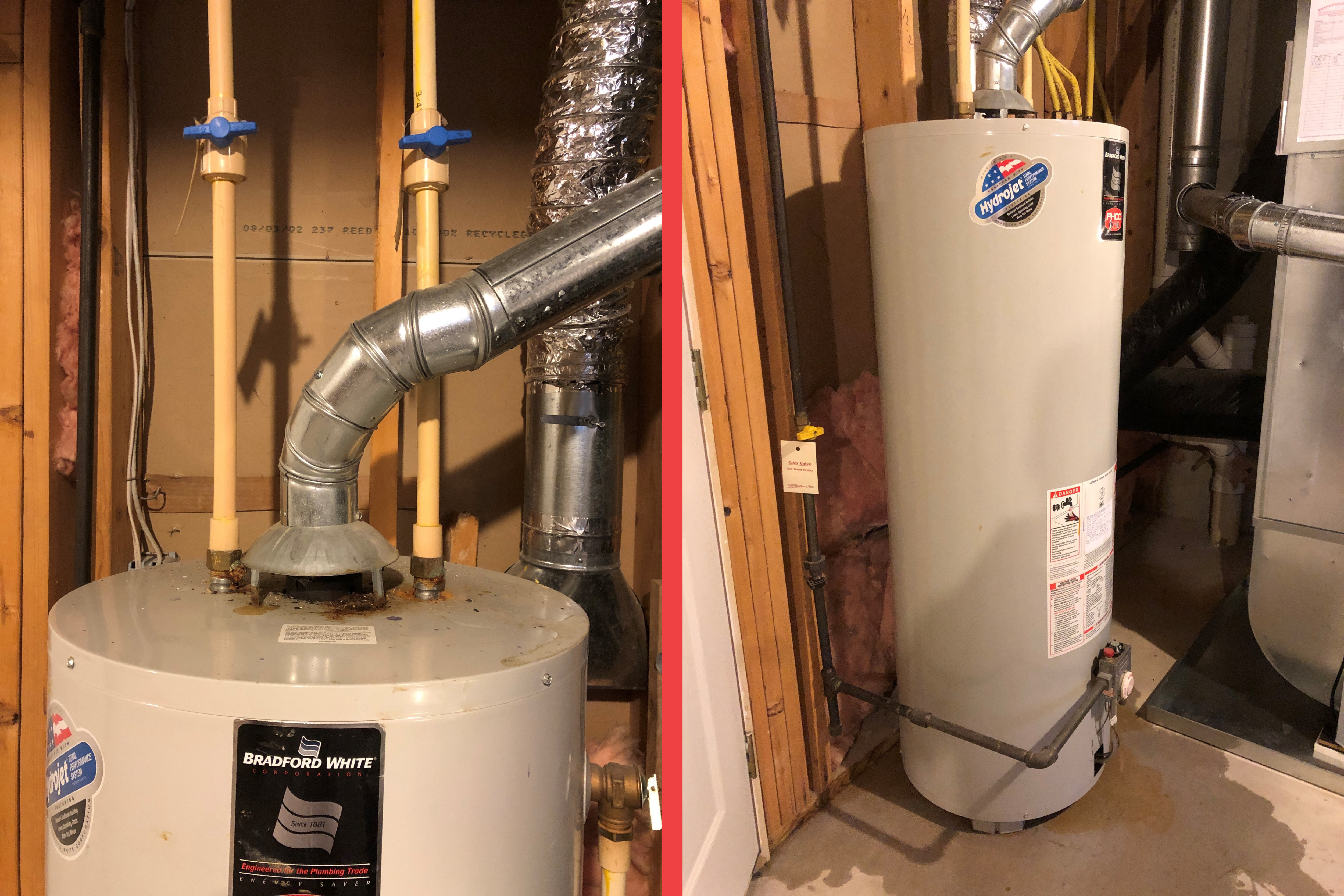 Here are common signs indicating there is a problem with your water heater:
Discolored water coming out of the tap

Irregular water temperatures

Strange noises coming from the tank

Less hot water than usual

Water leaking around the appliance
Instead of waiting to get to that point and being left with ice-cold water, get in touch with the team at Brandywine Valley Heating & Air Conditioning. We have been serving West Chester area homes for over 30 years – you can count on us for a reliable repair.
Experience
We're trained to work with a variety of heating and cooling systems, including Trane, Mitsubishi, Water Furnace and all major manufacturers of the industry's most trusted brands.
Skill
Our technicians are Trane Comfort Specialists. There's no one more qualified to help you with Trane heating and cooling products than Brandywine Valley.
Transparency
You'll never have to worry about upcharges or hidden fees. We're upfront about our pricing so you know exactly what you're paying before we do the work.
Reasonable Pricing
We're committed to keeping our prices low for our customers. Life comes with enough headaches; your HVAC bill shouldn't be one of them.
100% Satisfaction Guarantee
You'll never have to worry about upcharges or hidden fees. We're upfront about our pricing so you know exactly what you're paying before we do the work.
Licensed Specialists
Our team is trained, licensed, and equipped with the most advanced tools in the industry.
We Give Back
Always have. Always will. Community involvement and giving financial support is a big deal to us, so don't be surprised to find us at local events!
Customers For Life
Our goal is to have every customer become a customer for life. To us, this means looking out for customers as we would for a friend or member of our family. We promise that we will only.
When Should You Replace Your Home Water Heater?
Depending on usage and the type of appliance, you should get at least seven to 13 years from your water heater. As long as your appliance was properly installed and you've maintained it over the years, there's no reason it won't last for 15 years, or sometimes longer. If you think you need to replace your existing water heater because it's not functioning properly, don't hesitate to have us come out and look at it. We may be able to repair it for you, saving you from an expensive replacement.
If you have an older water heater or you need to upgrade to a larger tank, call us for a professional recommendation and installation. Our trained technicians are equipped to install all types of water heaters, and we are familiar with all the major brands – from Kenmore and Whirlpool to Rheem and Bradford White. We will also talk to you about your different options so you can end up with an appliance that perfectly suits your household's hot water needs.
Wondering if you should opt for a traditional tank water heater or a tankless model?
Tankless water heaters are more energy-efficient, consume less floor space, and usually last longer than a traditional tank water heater. On the other hand, they are more expensive up front, and, depending on your water usage, you may experience inconsistent water temperature.

Traditional tank water heaters are simple to operate, have fewer repairs, and cost less upfront. You can also opt for a tank size that serves your needs. The downside is that a large tank will require a lot of floor space. They also use more energy than tankless appliances, and every time you use all the hot water, you will have to wait for it to reheat before you have ample warm water again.
Expert Water Heater Installation and Repair in Chester County
Whether you need help troubleshooting a problem or you are interested in replacing your existing water heater, you'll get peace of mind and top-quality results when you call on us for help. Call us today, at 610-692-3900 or contact us online to set up an appointment.