Reliable AC is an essential for any Chester County business. You depend on your air conditioner to keep customers and employees cool, and to ensure a welcoming, comfortable environment for everyone.
If your cooling system is underperforming, inefficient, or has simply stopped working, get in touch with the comfort specialists at Brandywine Valley Heating & Air Conditioning. It may be time to install a new system.
Our experts will assess your AC and discuss your options for a new air conditioner if your current one is beyond repair. We have been serving area businesses with commercial AC services for over 30 years. You can count on us to help you get the best results for yours. Give us a call or contact us online to get started.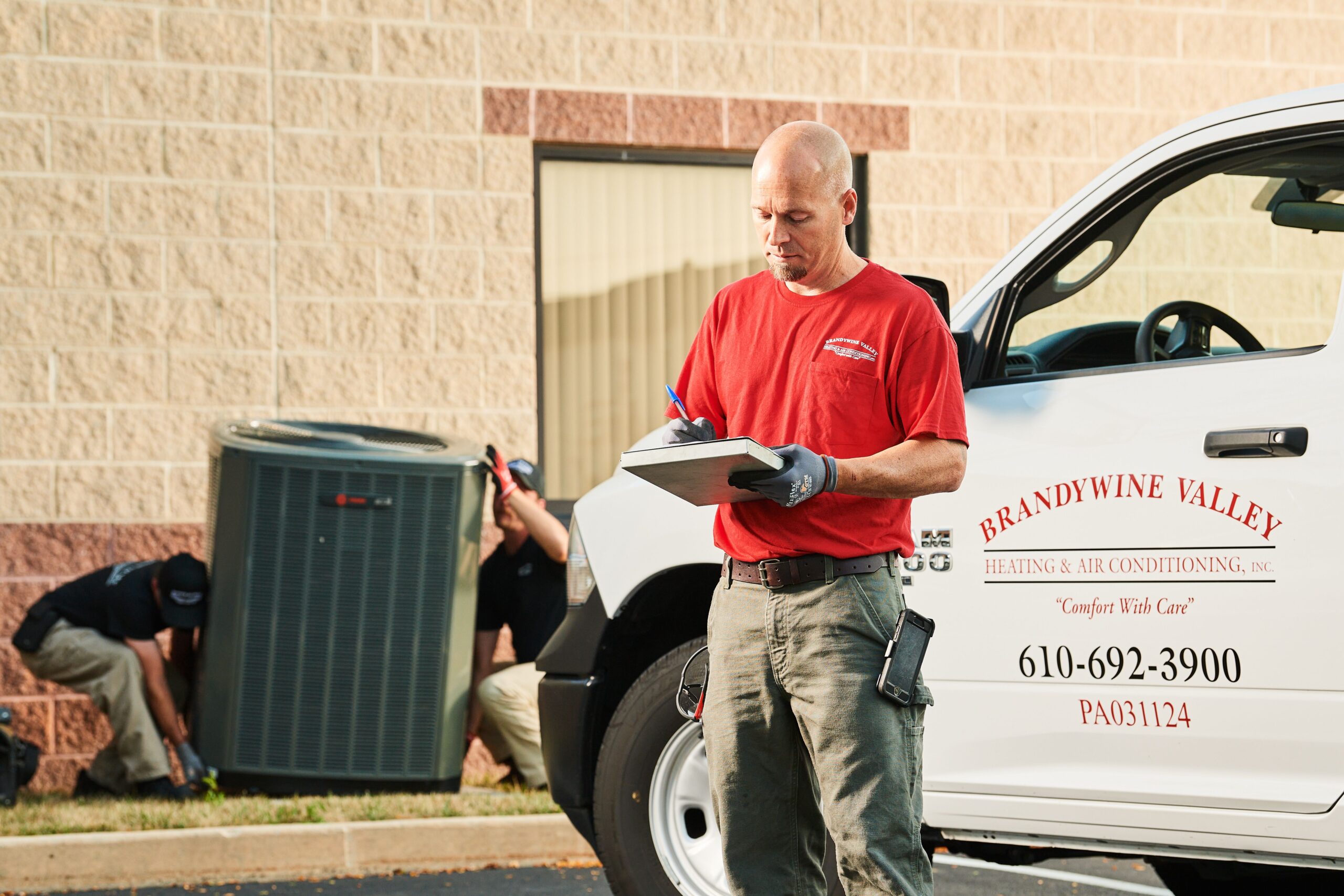 Tailored Air Conditioning Services for Your Business
Every business is different. From budget and performance needs to the way your building premises are set up, you will get the best outcomes with a cooling system that's suitable for your needs. With a tailored approach to commercial AC, we can help you achieve the best performance while still targeting reasonable energy costs. We can also design a custom cooling system for new builds and commercial renovations.
Once installed, we can work with you to keep your AC in optimal condition over the years with our preventative maintenance services. Our experts are trained to work on all major commercial brands. You can count on them to keep your system in great shape over the years, helping to extend its life and preventing expensive repairs.
Professional Installation
Commercial AC systems are different than residential ones. They are far more complex, and they require more than just everyday tools to install. It is critical that a specialist handles your installation work to ensure everything functions properly and nothing is vulnerable to early wear and tear.
At Brandywine Valley Heating & Cooling, everyone involved in your installation project is a fully-trained technician with experience in working on commercial AC systems. We understand how important your AC is to your business. Count on us for fast installation and expert workmanship.
Energy-Efficient Commercial AC
Interested in lowering your business's energy costs? The reality is that utility bills consume a sizable chunk of any business's operating budget. But, with modern cooling systems and innovative technology, you can cut your bill down significantly, helping you save a lot of money while still enjoying impressive AC performance.
When we install a new cooling system, you will see lower bills. If you want to choose the most energy-efficient option, ask us about geothermal heating and cooling systems. Our technicians are geothermal experts. We are also the only WaterFurnace GeoPro Master Dealer in the area, so you can rest assured that we are the best team around for commercial geothermal installations.
Cost-Effective Solutions for Local Businesses
We are staffed by experts and equipped with the best tools in the industry. This allows us to deliver flawless work in less time – which helps us to keep our costs down. We pass these savings on to you. When you partner with Brandywine Valley for your commercial air conditioner installation, you can expect affordable prices, transparent costs and easy financing.
Here are answers to some of the most frequently asked questions we receive.
We are different from your typical HVAC company. Not only have we been around for longer, but we are also experts in commercial heating and cooling systems. On top of that, you can't beat our commitment to quality service, professional work and community support. A local, family-owned business ourselves, we're dedicated to helping area businesses thrive with reliable solutions.
We are Here to Serve You – Contact Brandywine Valley Today
Partner with a team of commercial AC specialists and know that you are getting the best possible service for your business. Our technicians are factory-trained, and they are professionals you can trust. Call us today at 610-692-3900 or contact us online to talk with one of our experts.