It's been about 30 years since we started seeing a significant trend towards geothermal heating and cooling in Chester County and the greater Delaware Valley. In that time, we have installed thousands of geothermal systems and serviced even more, considering how much service and repair work we get for systems which were installed by other companies.
As the only WaterFurnace GeoPro Master Dealer in our area, we have witnessed the growth in the geothermal sector firsthand. With over two decades of experience installing and servicing geothermal systems, our team is better trained and more experienced in installing and servicing this unique technology than any other company serving our community. As leaders in the geothermal community, we are proud to be founding members of the Pennsylvania Geothermal Heat Pump Association, a nonprofit trade organization committed to providing training and education to those who wish to broaden their knowledge of geothermal technology and its many environmental and economical benefits.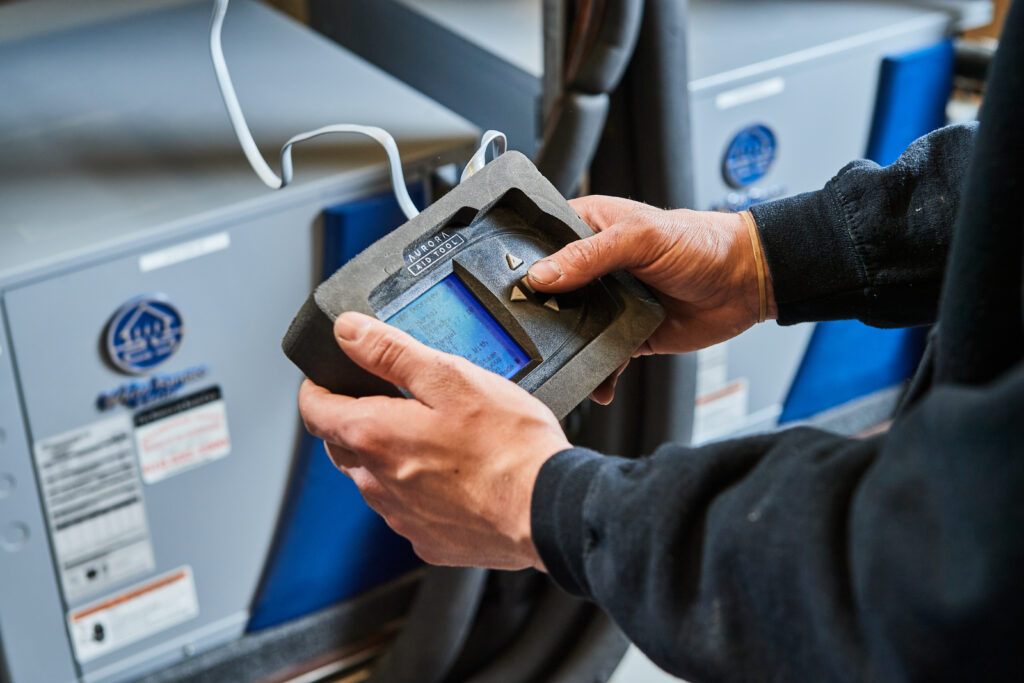 Choosing the Best Geothermal Service Company
You've already made a great choice to have a geothermal system installed at your home or business. Now, it's time to make sure that investment is protected by ensuring that the right geothermal service company is providing the cost-saving scheduled service to keep your system running properly. Like any traditional comfort system, your geothermal system requires annual scheduled maintenance to protect against part failure and ensure safe, efficient operation.
Brandywine Valley Heating & Air Conditioning's geothermal specialists will perform a full maintenance check on your geothermal system including your Geothermal Heat Pump (GHP), Ground Loop and all System Controls. Preventive maintenance of your geothermal system is a smart choice because, as we can heartily attest, it undoubtedly costs less to routinely maintain a system than to foot the bill for equipment failure resulting from neglect.
Unmatched Geothermal Repair
In the event your Geothermal Heat Pump, Ground Loop or Controls are experiencing a failure in proper operation which would require repair, Brandywine Valley should always be your first choice. Your geothermal system is complex and not all HVAC companies are trained or even tooled up to meet the needs of a geothermal system repair job. Don't take chances with the health of your geothermal comfort system. Call the geothermal repair pros at Brandywine Valley Heating & Air Conditioning today so that we can dispatched the area's most qualified crew to your home in short order.
Commercial and Residential Service
For nearly three decades, there has been one name that homeowners and business owners can depend on for honest and dependable HVAC service and repair throughout Chester County and the Delaware Valley – Brandywine Valley Heating & Air Conditioning. Purchasing a new property that already uses geothermal heating and cooling? You can trust West Chester's only WaterFurnace GeoPro Master Dealer to provide top notch geothermal service and maintenance. Our company has been voted Best of Chester County 19 years in a row because customer satisfaction has always been our #1 goal.
Customers for Life
In order to properly run a geothermal system year after year, it is imperative that the system is maintained by a trained professional. At Brandywine Valley, customers with maintenance agreements comprise 90% of our repeat referral base and help our company to develop relationships with generations of customers. Unmatched maintenance and service are at the core of our success model as a small business. In short, the health of our business is predicated on the health of your comfort system. To find out what we mean by Comfort with Care, call Brandywine Valley today to schedule a maintenance appointment for your geothermal system.