Boilers are an excellent option for home heating. They are one of the more energy-efficient heating systems available today. With a boiler, you will also enjoy improved air quality because the system does not blow air throughout the house to deliver warmth.
Trust the boiler experts at Brandywine Valley Heating & Air Conditioning with all your boiler needs. Our factory-trained specialists will repair your system quickly. We can also install a new boiler in your home. Call 610-692-3900 for professional boiler replacement and repair services in Chester County.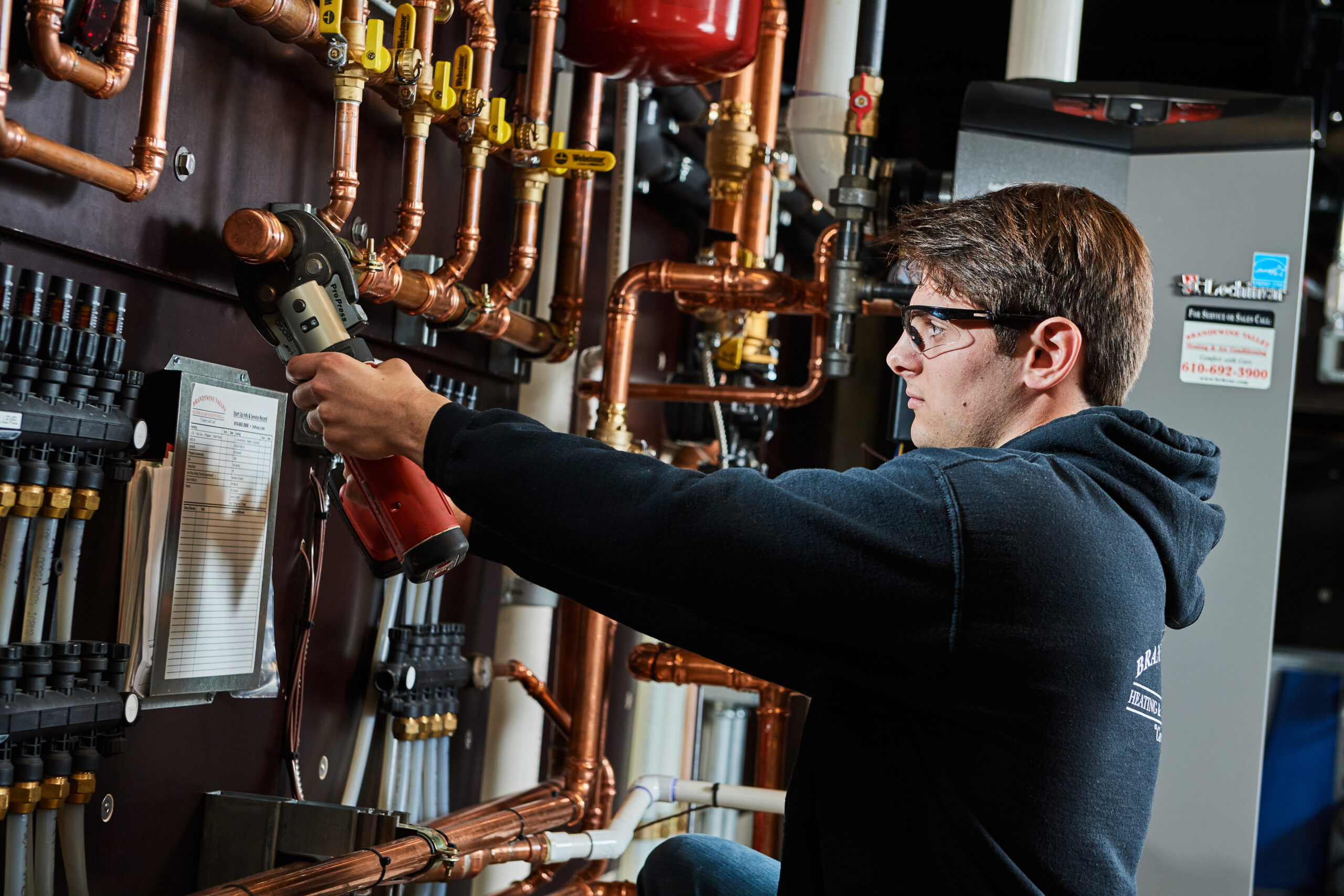 How Boilers Work to Heat Your Home
Unlike an air pump HVAC system or furnace, which blow warm air throughout the home, a boiler relies on hot water or steam to generate warmth. Either medium moves through pipes located under your floors and behind walls.
The word "boiler" can give an image of an outdated, large heating appliance, but the truth is, boilers are very energy efficient and provide comfortable radiant heating. Boilers can operate with different fuel types, and come in a variety of sizes to accommodate properties from average size to large. No matter what your heating needs may be, including repair, replacement or maintenance, call the professionals you can count on Brandywine Valley Heating and Air Conditioning
Common Signs Your Boiler Needs Professional Repair
Your home's boiler may operate flawlessly for years, even with regular use. As it ages, however, you can run into problems. If you notice any of the following warning signs, contact us for help. One of our boiler specialists will come out to look at your system and diagnose the problem.
Abnormal whistling noises or gurgling sounds

Kettling – if your boiler starts to sound like a tea kettle, it could have a leak somewhere that needs to be fixed

Moisture around the base of your boiler

Turns on and off frequently

Inadequate heat or fails to warm up once you turn it on
With over 30 years of experience repairing and installing new boiler systems in Pennsylvania, you can count on our team to identify what is wrong and provide a quick solution. We also keep our repair van stocked with the best boiler repair tools, as well as common replacement parts for heating systems. In most cases, we will be able to fix your boiler in one trip.
Get More Out of Your Boiler with Routine Maintenance
We are also happy to service your boiler system. With a preventative approach to boiler maintenance, you may avoid costly repairs, ensure your boiler is running smoothly, and possibly extend the life of your heating system.
Hassle-Free Boiler Replacement
When it's time to replace your boiler, our experts can install a new boiler for you quickly and efficiently. We understand it can be stressful having to replace your heating system. That's why we go above and beyond to ensure you achieve the results you want.
Our experts will consult with you about your options. We will talk to you about different types of boilers, their benefits, costs, and performance. Once you choose the system you'd like, our licensed technicians will install a new boiler in your home.
Once it is installed, we will clean our workspace, test out your system, and make sure you have all the information you need to get the most out of your system. Then, you can start enjoying the warmth and comfort of a smooth-running heating system.
Count on Our Boiler Experts
Repairing and installing boiler systems requires specialized training. Whether you are having problems with your boiler and need a repair, you want to keep your system in excellent condition with servicing, or you're ready to install a new boiler in your home, call Brandywine Valley. We have been serving the West Chester community for over two decades. We are familiar with all types of boilers and brands, and we always guarantee our results.
Contact us online to schedule an appointment or call 610-692-3900 today.